"LIELMAIZE" KEFIR BREAD RECOGNIZED AS THE BEST NEWLY INTRODUCED PRODUCT IN LATVIA IN 2021
25.04.2022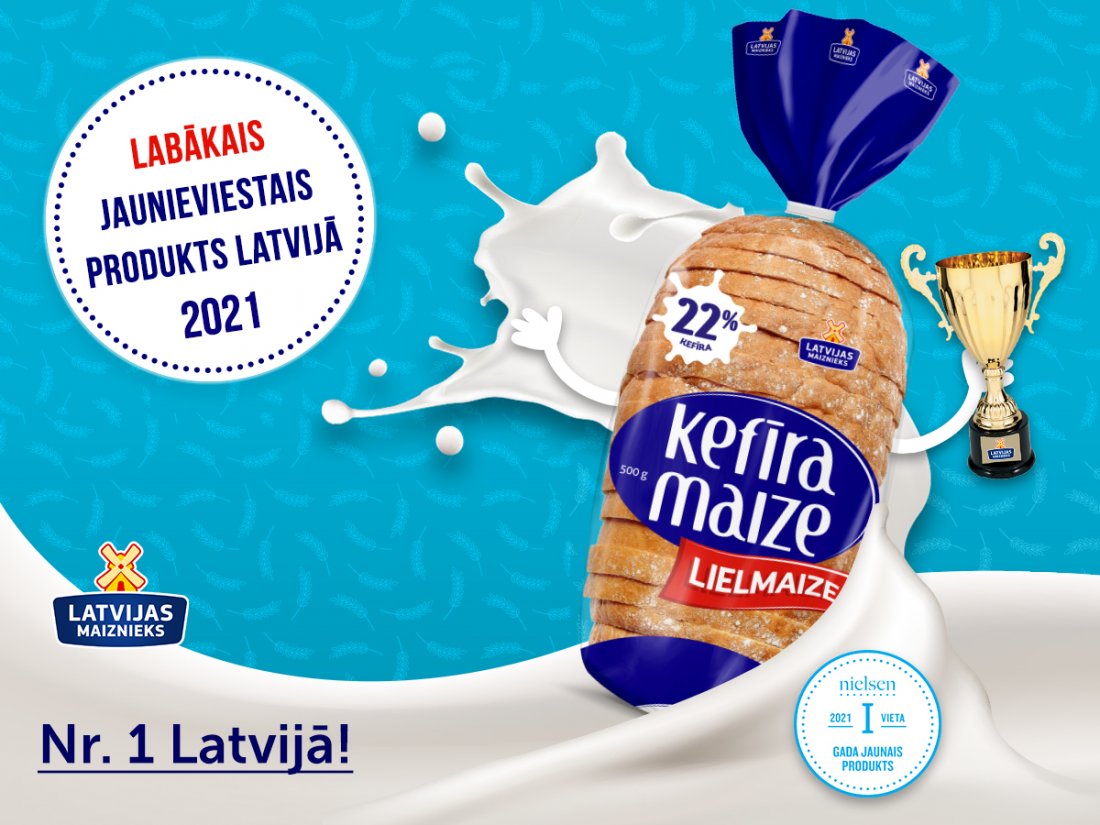 The largest Latvian bread production company AS LATVIJAS MAIZNIEKS receives for the fourth time the most popular new product in the category of the international market and consumer research company Nielsen, this time awarded to KEFIR bread from the "Lielmaize" series. This bread reached consumers very recently - in July 2021.
Every year, Nielsen conducts a survey of last year's most successful new products, which gathers sales data and surveys consumers in various new product categories. For several years in a row, the new products of the company AS LATVIJAS MAIZNIEKS have also gained recognition in Latvia.
Previously, AS LATVIJAS MAIZNIEKS received the Nielsen award in 2017 for GREEK YOGHURT bread, in 2018 for BREAD with cheese, in 2019 for LATVIJAS GRAUDU bread with seeds.
"Every year we supplement our product range with innovations introduced by our food technologists, therefore this award and recognition from customers is a great honor for the entire LATVIJAS MAIZNIEKS team. We are grateful to customers who appreciate and support Latvian products. I would also like to say a special thank you to our entire team, which with great care creates new buns every day so that they reach the tables of our customers. It is the recognition of customers when choosing our products that inspires us to create more and more new products, "emphasizes Māris Daude, Member of the Board of AS LATVIJAS MAIZNIEKS.
In 2021, despite various restrictions in the world, the company continued to work actively, not only providing an existing range of products, but also thinking about new products that could reach customers. Last year, the technologists of JSC LATVIJAS MAIZNIEKS created KEFIRA bread, which was also appreciated by buyers, but this year an innovation has entered the market - the LATVIJAS TOST MAIZES series, which consists of nine different breads made here in Latvia.
"Last year we noticed that shoppers go shopping less often and pay much more attention to the added value of products, for example, so that they can be stored fresh longer. That's why we created KEFIRA bread, which is the best quality product, and it is possible to sell it in a longer period of time thanks to the improved production technology, "says M. Daude.
At a time when many companies were forced to review their personnel policies due to restrictions, AS LATVIJAS MAIZNIEKS has managed not only to retain, but also to increase the number of employees, providing jobs for more than 23% of employees than in 2020. By increasing the number of employees and increasing the production capacity of bakery products, the company has continued to invest in development by modernizing the bakery in Daugavpils, which is currently one of the most modern in the Baltic States.
In addition, this year, for the eighth year in a row, the company has received the award TOP employer in the Latgale region, which is determined annually by a survey conducted by CV-Online.